Box Office
Box Office
Located at the Hangar Theatre (801 Taughannock Blvd.) for the Summer Season, and the administrative offices (in Center Ithaca) the reminder of the year.
Summer Season (June-August)
801 Taughannock Blvd.
Hours: Mon-Sat: 

12-6pm

; 1 hour before all performances 
During the winter – Oct. through May (or whatever months) – the BO is located in our business offices in Center Ithaca.
Seasonal Hours (Sept-May)
Center Ithaca Ste. 230
Hours: Mon-Fri: 

10am-5pm

; 1 hour before all performances 
HANGAR THEATRE OFFICES 171 E STATE ST, SUITE 203, ITHACA, NY 14850
OPEN MONDAY-FRIDAY 10AM – 5PM
Questions? Check out our FAQ Page
Learn more about our upcoming events HERE
Call: 607-273-ARTS (2787) to speak with our box office directly.
Click: BUY NOW. Purchase your tickets on a computer or on your mobile phone. No printer? No problem! Be prepared to show the barcode on your smartphone, or stop by our box office to have your tickets printed in advance.
Visit: Tickets can be purchased at our box office or at the theatre one hour prior to all shows.
Seating Chart (click the link below for a full size version)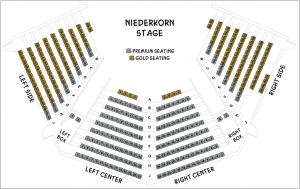 Mainstage Subscription Seating Chart 2018