Mainstage
The Hangar Theatre Company has been producing plays and musicals since 1975. From broadway classics to new works, the Hangar Theatre Company creates work that enriches, enlightens, educates and entertains the Finger Lakes Region.
The Hangar Theatre Company fully designs, directs, and produces each show in their mainstage season. Collaborating with and casting from a pool of local and Broadway stars and theatre artists, the Hangar is able to bring world-class theatre to Ithaca NY.
Click HERE for full show descriptions!
Mainstage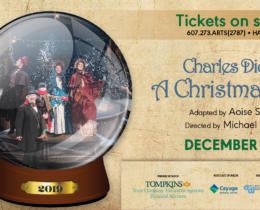 Charles Dickens' A Christmas Carol Premier Sponsor: Tompkins Trust Company Associate Sponsor: Cayuga Medical Center December 8-22, 2019 Tickets are on sale now! Return to 19th-century London this December with the Hangar Theatre's celebrated production of Charles Dickens' A…
Learn More
Buy Tickets