Venue Rental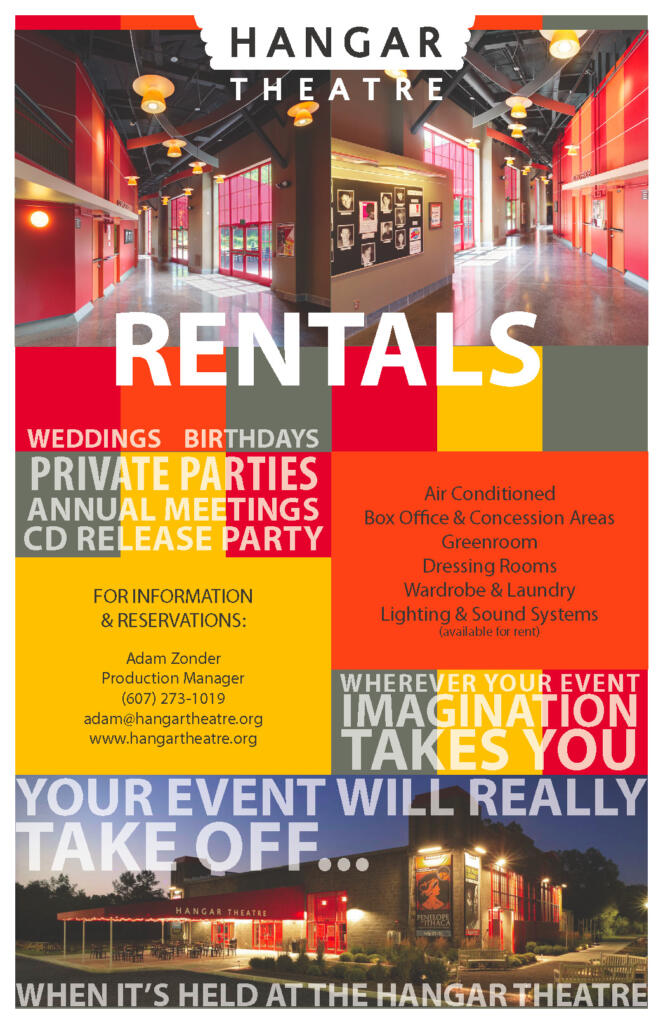 The Hangar Theatre is now available all year long! Click HERE to read about our Hangar For All Campaign.
Ithaca's Hangar Theatre is available to rent for your next concert, film screening, corporate meeting, fundraiser, special event, or party. The newly renovated facility features award-winning design by Holt Architects and provides an ideal backdrop for a variety of events.
Whether it's a large gathering or an intimate get together, your group will enjoy the extras that the Hangar provides. Located in Cass Park right by Cayuga Lake, it's a scenic environment for events and is in close proximity to ball fields, tennis courts, a marina and boat launch, dog park, and more.
Enhance your experience by attending one of our acclaimed performances that will stimulate engaging conversation between your guests. We will gladly accommodate your needs and customize your event. Take advantage of our:
Competitive rates
Flexible hours
Free parking
Comfortable stadium seating
Ample restrooms
Dressing Rooms
Spacious foyer
Unique indoor and outdoor spaces
Bartending services
Expert lighting, sound, and production services
Event listing on Hangar website (optional)
RESERVATIONS MUST BE MADE AT LEAST 3 WEEKS IN ADVANCE OF YOUR EVENT.
For more information and rates, email Sean Jacobs at sean@hangartheatre.org.
Hangar Theatre is located at 801 Taughannock Blvd., Ithaca, NY 14850.
Photography by Rachel Philipson