The Hangar Theatre is thrilled to announce a 3-show mainstage lineup for the 2023 Summer Season, featuring uplifting and timely stories that illuminate artistic passion, family, and the resilience of the human spirit.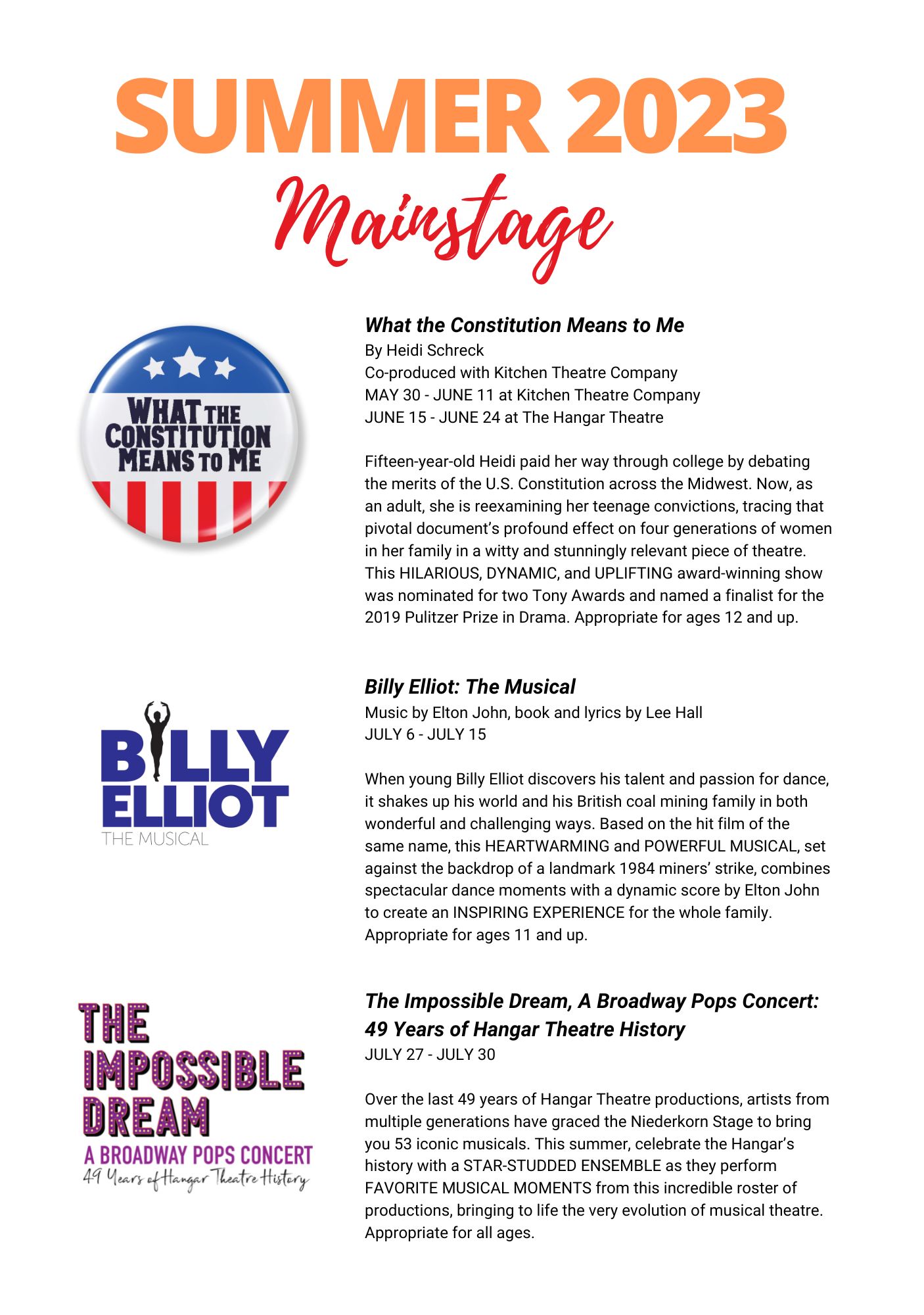 We hope you will join us for this fabulous Summer 2023 Mainstage Season!
The Summer 2023 Season will open with Heidi Schreck's What the Constitution Means to Me, a witty, relevant, and hilarious examination of the U.S. Constitution and its effects on four generations of women. This season kick-off will be a co-production with the Kitchen Theatre Company, in a landmark collaboration between the two treasured Ithaca-area professional theatres.
In July, Billy Elliot: The Musical will take the stage, with music by the legendary Elton John and a book and lyrics by Lee Hall, telling a powerful story about discovering passion, following your dreams, and the challenges and inspirations that meet you every step of the way. This hit musical, based on the beloved film of the same name, provides the opportunity to showcase some of Ithaca's young artists in its pivotal central roles.
The season will close with a musical spectacular celebrating 49 years of Hangar Theatre history. The Impossible Dream: A Broadway Pops Concert will feature artists and songs from a variety of the 53 iconic musicals performed over the last 49 years at the Hangar Theatre. This momentous performance, which will feature a fuller and more robust orchestral accompaniment than typically experienced on the Hangar stage, will celebrate the end of an exciting 49th season and will lead the Hangar ever-so grandly to its upcoming 50th Anniversary year.
No and Low Cost Ticketing:
Senior Discount only available for evening performances as matinees and previews are already discounted.

New to non-profit and community organizations, the Pay It Forward fund grants complimentary tickets to community members who would not otherwise be able to attend. These tickets are funded by generous donors to the Pay It Forward fund. Contact our Box Office if you belong to a group or organization that would benefit from this program.
Groups of 10+ save big! Contact us for a free quote (groups@hangartheatre.org).
For more information, e-mail boxoffice@hangartheatre.org or call (607)273-2787.
Mainstage