Shirley Serotsky (She/Her)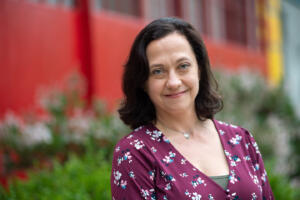 SHIRLEY SEROTSKY, Producing Artistic Director, was a director, dramaturg, artistic leader, educator, and programmer in the Washington, DC area since 2001, most recently as a staff dramaturg and public programmer. She served as the Hangar Theatre Associate Artistic Director and Education Director from September 2019 to October 2020, and as Interim Artistic Director from October 2020 to February 2021.
A native of Rochester, NY, Serotsky participated as an actor in the Hangar Theatre Lab Company during college. She states that her experience  "truly opened my eyes to the kind of artistry, thought, innovation, and political and social relevance that is possible when creating theatre. It shifted my path from acting, and soon I was pursuing directing myself." FULL PRESS RELEASE
She has served as staff dramaturg and public programmer for Mosaic Theater Company, and as a co-director of the Director's Intensive for the Kennedy Center American College Theater Festival. Between 2008-2016 she served in a series of leadership positions (including Interim Artistic Director for the 2015-2016 season) at Theater J, a professional theatre company committed to producing timely, and often politically-charged, new plays and revivals. During her time at Theater J, Shirley was an integral part of season planning, public programming, casting, artistic oversight, future visioning, budgeting, and producing for eight mainstage seasons with 7-8 full productions and 2-3 festivals per year. Previous to that, she served as the New Works Coordinator for Catalyst Theatre Company and she was a founding member and producer for Bouncing Ball Theatrical Productions. Shirley has taught and mentored students from the age of six to eighty-six in the fields of directing, acting, improvisation, dramaturgy, play analysis, theatre appreciation, new play development and auditioning techniques in both a classroom setting (extra-curricular and at the University level) and for resident theatre education programs.
Selected directing credits include: The How and the Why, Another Way Home, The Call, Yentl, The Argument, The Hampton Years, The History of Invulnerability, The Moscows of Nantucket, Mikveh (which received two Helen Hayes Nominations for Best Actress), and The Rise and Fall of Annie Hall (which received a 2009 Helen Hayes Nomination for Best New Play) (Theater J); Rapture, Blister, Burn (which received a Helen Hayes Award for Best Supporting Actress) (Round House Theatre); The Jungle Book (Adventure Theatre); a 21/24 Signature Lab Workshop presentation of The Break (Signature Theatre); Working: The Musical (Keegan Theatre); Blood Wedding (Constellation Theatre); A Man, His Wife, and His Hat and Birds of a Feather (which won the 2012 Charles MacArthur Helen Hayes Award for Outstanding New Play, The Hub Theatre); Juno and the Paycock (Washington Shakespeare Company); Reals, Five Flights and Two Rooms (Theater Alliance); Crumble and We Are Not These Hands (Catalyst Theater); References to Salvador Dali Make Me Hot (Rorschach Theater, for which she received a 2007 Helen Hayes nomination for outstanding direction); Sovereignty (The Humana Festival of New Plays). Training: BFA, North Carolina School of the Arts; MFA, Catholic University.