Virtual Lab Company
and How to Apply
The Hangar Theatre is currently celebrating its 46th year as a leading regional theatre, located in central New York State. Since 1989, the Hangar Theatre has been home to the Hangar Lab Company, a nationally recognized theatre training program. Designed for advanced college students and theatre artists transitioning into the professional world, the program offers an immersive hands-on experience in a repertory environment, supplemented by classes and workshops taught by career professionals.
The Hangar Theatre 2020 Virtual Lab Company
The Hangar Theatre Virtual Lab Company will provide opportunities for learning, creation, collaboration and growth for advanced college students and theatre artists transitioning into the professional world through a rigorous and thoughtful online program.
What are the Virtual Lab dates?
There are two four-week session options:
Session 1: June 1 – June 27, 2020
Session 2: July 6 – August 1, 2020
What is the schedule?
The Virtual Lab will meet daily, from 10am-1:30pm EDT, Tuesday through Saturday.
Days will be comprised of:
Orientation: sessions geared towards ensemble building and collaboration
Rehearsals: rehearsing in groups of no more than 12 for a devised, virtual theatre piece led by an experienced director/divisor, and for virtual Theatre for Young Audiences (TYA) experiences
Class sessions: conducted five days a week with varied areas of focus
Professional development workshops: held weekly, emphasizing transitioning to the professional world
Directors and Playwrights will be involved in the theatrical projects and will also have area-specific classes and projects.
What classes will be offered?
Weekly classes and professional development workshops will focus on topics in which prospective lab members expressed particular interest, such as: approaching Shakespeare, text analysis, contemporary scene work, voice acting, and acting for the camera.
How will the virtual performance opportunities work?
Actors will create and rehearse a devised piece with a professional director that will be shared with theatre professionals and will be accessible to friends and family for viewing and a TYA virtual experience that will be recorded and shared with area young people and families.
What is the cost?
Tuition for the four-week program is $950.
How do I apply?
The Application for the 2020 Virtual Lab can be accessed here.
Is there the possibility of financial aid?
Yes! If you would like to be considered for assistance, please email either the first two pages of your or your parents' or guardians' 2018 or 2019 Form 1040 tax return OR a FAFSA report (social security numbers redacted) AND/OR a short statement (one page or less) outlining any additional factors affecting financial need to Lab@Hangartheatre.org.
What is the deadline for my application and registration fee?
Session 1: Applications are due on Friday, May 15. First payments are due on Friday, May 22.
Session 2: Applications are due June 15 (Extended). First payments for Session 2 are due on June 5.
What technology is required to participate in the program?
Successful engagement with the Virtual Lab will require a computer or tablet, and consistent Internet service.
What happens after I complete the application?
We will reach out to you individually with a customized participation agreement, and further information.
Please email Lab@Hangartheatre.org with questions; we hope you can join us (virtually!) this summer.
Lab Company YouTube video (2017)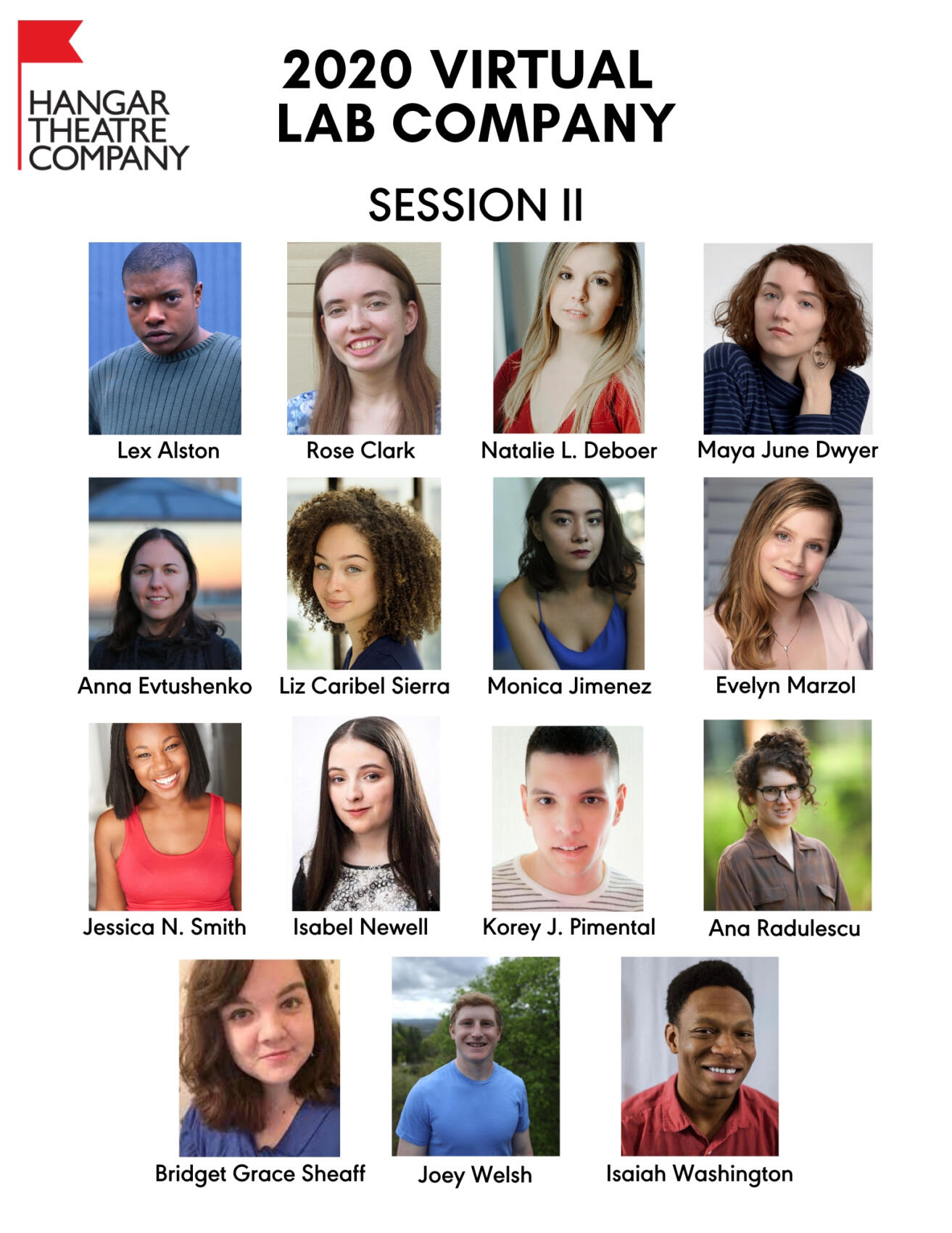 Sesssion I Instructors & Directors