Mainstage
5 Show Summer Season
CLICK HERE to purchase tickets!
Click here for information about subscribing and saving!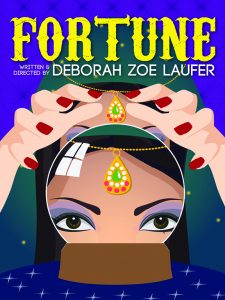 June 14 to 23, 2018
Maude, a Brooklyn fortune-teller, has an uncanny ability to actually predict the future
for her clients. However, when Jeremy, a despondent accountant, talks her into an
afterhours reading, she is compelled to lie about his unfortunate future to save his life.
Her little fib, though, has an unforeseen impact on both of their lives. Join us for this
romantic comedy of how a cynical Maude and a nebbish Jeremy find love and
happiness.

June 28 to July 14, 2018
In 1920s Chicago, there aren't many paths to fame for women. But as Velma Kelly
and Roxie Hart discover, murder is one of them. Based on the true stories of the
"merry murderesses of death row," these two vamps compete with each other to
become the nation's sweetheart, prove their innocence, and prove that corruption
never goes out of fashion.

July 19 to 28, 2018
Kate Hamill's fresh new take on the Jane Austen classic remains true to
the original text while bringing great verve to the story of the Bennet sisters. Like most
women of the middle class, the Bennet girls know that to win the game of life, they
must land the right husband. A variety of mishaps and miscommunications, however,
derail budding romances as the sisters learn the complicated rules of mating rituals.
Follow Liz, Jane, Bingley and Darcy as the traverse the trials of societal expectations
in this witty adaptation by Ithaca native and IC alum Kate Hamill, fresh from its New
York run.

August 2 to 11, 2018
15 years ago, Nora Helmer walked out on her husband, her children and
her life, to discover who she is. Now, she's come home. Witness her hilarious and
heart-break homecoming in this poignant period comedy that reunites Nora with her
husband, her maid, and the daughter she left behind. Currently, the Hangar Theatre is slated to be the first American theatre to stage A Doll's House, Part 2 since its successful Broadway run.

August 16 to September 1, 2018
Zeus' daughters, the Muses, task themselves to inspire the greatest Venetian artist of
all time. But instead of traveling to Venice, Italy, they find themselves in 1980s Venice
Beach, California. Undeterred, Clio chooses Sonny, a sidewalk chalk muralist and
roller-skater extraordinaire, as the perfect candidate. Together, they embark on a great
artistic journey to restore the mythical roller-skating rink Xanadu.
Click here for information about subscribing and saving!