An Odyssey: Streaming Event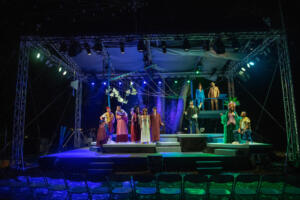 The Hangar Theatre was created by a community, for a community–this is essential to our very origin story. With this in mind, the Hangar staff and board aim to create meaningful connections with the people, schools, and organizations of Tompkins County through collaborative programming, projects, and conversations.
A recent celebrated endeavor was the August 2021 production of An Odyssey: a community-based theatrical spectacular. The production was a community-created theatre project centered in Tompkins County, NY and co-produced with fellow Ithaca-based theatre the Cherry Arts Inc. The first community-specific project in Hangar Theatre history, An Odyssey brought together community members and professional theatre artists to create a community generated and performed theatrical adaptation of Homer's The Odyssey that reflected the diverse populations of the Ithaca community and the journey(ies) we have taken, both as individuals and collectively, during the pandemic and the social/political upheavals of 2020. During the development stages of the project, artists from the Hangar and Cherry Arts led free workshops with 
several local community organizations, including Circus Culture (Ithaca's circus school); The Greater Ithaca Activities Center (GIAC); Racker (a service organization that provides strength-based support for individuals with disabilities and their families); and Lifelong (a senior center for Ithaca area adults). The show was a meaningful collaboration that paved the way for future community-driven productions and projects.
As a token of our sincere thanks for your immense support these past two years, we are thrilled to share this streaming of An Odyssey for a limited-time free of charge! Your support is vital to future community-based theatre projects at the Hangar. If you have the means, please consider making a donation today. Suggested donation begins at $25, the average cost of a streaming ticket. Thank you!
WATCH NOW!
A Memorable Creative Experience:
"This was the first production since COVID shut down live theatre where I was able to work as a designer 'in the room' with the cast and crew and be able to experience the show with a live audience under the stars. That it was an ensemble-based production bringing diverse people from the community to retell the story of Odysseus though the lens of our shared experience, not only for what has happened to all of us but what it can be going forward is all the more fitting and rewarding for me as an artist. I don't think there is any better way to describe the resilience of theatre and of the human spirit than the simple act of creating with and for each other."
-Czerton Lim (Scenic Designer)
"Working on An Odyssey was such a wonderful experience. It was the perfect marriage of a well known story with devising and fresh takes. I felt that it really reflected so well the community based project that it was! Combined with the perfect outdoor summer venue, it was the best way to spend my summer nights."
-Madison Hertel (Actor)
"Just as there are some lessons that humanity must learn over and over, there are stories that must be told again and again. Stories that transcend the stodgy designation of 'classic' and stay relevant. Stories that connect to something deep and true and universal. Odyssey is one of them. It was an honor to participate in a reimagining of this epic tale that feels at once so old and yet so timeless. Much love to Hangar and Cherry Arts for all of the blood, sweat, and love poured into this production! It was a pleasure and a privilege."
-Derek Powell (Actor)
"What a wonderful collaborative experience! It was a true joy to work on this show with such generous, talented, and creative artists and theatre makers."
-Sylvie Yntema (Actor)
"Working on the Odyssey was a very special experience. I am glad that so many members of our community got to meet and work together. It was incredible to see how the music I had written was brought to life within the world of the show. There is a certain kind of magic when the score all of a sudden aligns with the emotion and action on stage. During Covid it is so easy to feel isolated and more than ever we need art, culture and creativity to bring us all together."
-Emma Plotkin (Composer)
"With all the unique types of perspectives and diverse performances of our wildly driven and community oriented cast, it really felt like we were able to appeal to a true sense of camaraderie between each other and our audiences."
-Maxwel Anderson (Actor)
"Working on An Odyssey at The Hangar was such a treat! Collaborating with this particular cast and crew was a wonderful, magical experience. I'd do it again in a heartbeat!"
-Marissa Accordino (Actor)
"Acting in An Odyssey this summer was the tonic I needed to be revitalized. There is so much artistic talent in the Finger Lakes. I discovered a different world here."
-Francine Wilson Jasper (Actor and Community Member)
"Rehearsing and performing An Odyssey was exactly what I want from theatre in general. Our group produced and performed an epic adventure, the show poeticized a social crisis affecting all of our lives, we did it in nature, and it was created to affirm the love and solidarity of everyone in our community. I hope we can continue to produce collaborations like An Odyssey in Ithaca for many years to come."
-Riparia Bornstein (Actor and Puppetry Consultant)
"At the risk of sounding hyperbolic, working on An Odyssey was both magnificent and transformative. Our cast and crew all came from a wacky and outlandish array of theatrical experience, sociopolitical backgrounds, ages, and life experiences, and we still managed to become an imaginative, creative, supportive, and dare I say loving group. In every sense we became our very own crew of sailors, with our fearless Odysseus (Sam Buggeln) at the helm. And together we brought that same sense of community and adventure and coming-home to our own Ithaca."
-Jess Dreiling (Actor)