Lab Company Performance Fellowship Fund
Donate Now!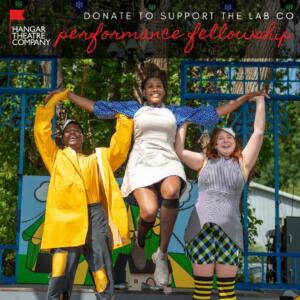 The Hangar Theatre is thrilled to officially announce plans to transform the Hangar Lab Company into the Hangar Lab Company Performance Fellowship program. The Lab has provided theatrical experiences and educational opportunities for hundreds of emerging artists since 1991, but up until now, has existed as a tuition-based program.
With your help, the Hangar will eliminate tuition for this program in 2022, and reshape the Lab into a compensated performance fellowship.
In creating the Hangar Lab Company Performance Fellowship program, we aim to eliminate many of the barriers to the valuable experiences Lab Company offers young artists, while assuring that Tompkins County continues to benefit from high-quality, relevant, and entertaining KIDDSTUFF shows throughout the summer.
In order to make all of this possible, we need to raise $80,000 by April 30, 2022. 
How can you make a gift today? 
Please make your very meaningful donation today by clicking the DONATE NOW button at the top of this page. Your support is vital to the Hangar's launch of the Lab Company Performance Fellowship. Your gift makes a huge difference in the lives of young artists throughout the country and young audiences right here at home.
Your gift has value!
$30 funds the purchase of an essential KIDDSTUFF costume piece

$65 funds a week's worth of gas to get Lab Company Performance Fellows around town

$100 funds sound equipment for an innovative Wedge production

$250 funds a week's compensation for a Hangar Lab Performance Fellow

$300 funds a week of housing and transportation for a Hangar Design Fellow

$500 funds construction supplies for a KIDDSTUFF set

$1000 funds the salary, insurance, and payroll tax for the box office staff for a week of a KIDDSTUFF show run

$5,000 funds the stipends and housing for the design and production team of a KIDDSTUFF show

$10,000 funds the stipends for 10 Lab Company Performance Fellows for a month of a Hangar residency
Need more info? Call 607.273.8588 x04 or email development@hangartheatre.org
Fundraising Updates
11/30/21: 
Thanks to the generosity of the Community Foundation of Tompkins County, the Egner family, and the wonderful community members who attended the Hangar's Night of the Living Musicals benefit, we've raised $45,000 of our $80,000 goal!
To officially launch this campaign, we aim to raise $5,000 by the end of this week through our Giving Tuesday Kickoff Campaign. 
12/9/21:
We have raised $795 towards our kickoff campaign! We are also thrilled to announce that due to a gift of $2,500 from Andrea and Jon Clardy made in memory of Erin Schlather, we are able to cut our original goal of $5,000 in half! This means that we only need to raise $1,705 in order to meet our goal. We will be extending our kickoff fundraiser until we reach our goal. Thank you to everyone who has donated so far, both online and offline. 
In total, we have raised $49,000 of our $80,000 goal!

Stay tuned for additional updates!