Sensory Friendly Performances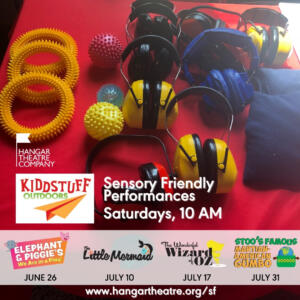 Sensory Friendly Performances:
New this year, sensory friendly KIDDSTUFF performances will take place Saturdays at 10 AM.
Sensory support material such as weighted lap pads, headphones, and fidget spinners will be available for rent, free of charge, at every performance this summer. To request these materials, call or e-mail us at least 2 hours in advance:
(607)273-ARTS
Story guide for attending Hangar's 2021 Outdoor KIDDSTUFF season coming soon.
Stay updated about our sensory-friendly offerings by signing-up HERE!
Groups:
If your group is interested in attending Sensory Friendly performances, contact groups@hangartheatre.org 
(Pay) What You Will tickets are available for every performance in 2021!
This program gives individuals the option to choose a ticket price within their means. The goal in this program is to give everyone in our community the opportunity to enjoy our exciting outdoor theatre this year!
(Pay) What You Will tickets must be reserved in advance, to purchase e-mail boxoffice@hangartheatre.org or call (607)273-2787. The Hangar Theatre's commitment to accessibility is supported in part by the Park Foundation and Stumbar Parks & Salk, LLP.
For Families: Seeing a Play at the Hangar Theatre (a Social Story)