In the early 2000s a dream was hatched to aid in the development of the next generation of theatre designers, providing an opportunity for intensive hands-on training in a professional, repertory model experience. This program is designed to help bridge the gap between the educational and professional worlds. Hangar Design Fellows have the opportunity to explore, grow, think, collaborate, network, design, stretch, and most importantly – to learn by doing. Will every idea be a home run? Will every method work out? No–but that's not the intention. The Hangar Design Fellowship embraces the principle: You'll never know unless you try.
Design opportunities include:
One design fellow in each discipline will be selected to come and spend the summer in residence in Ithaca. Design Fellows design the KIDDSTUFF and Wedge shows, and assist on some of the Mainstage productions.
Hangar Fellows Performance Series
The Hangar's summer KIDDSTUFF theatre for young audiences (TYA) series features plays and musicals selected especially for young audiences (usually ages 4-9) that include current popular titles and reimagined classics that reflect the diversity of backgrounds and viewpoints of today's world. 2022 KIDDSTUFF productions will take place on the Hangar's Outdoor Tompkins Trust Company Stage.
The Wedge series showcases timely, inventive productions produced entirely by members of the Hangar Theatre's pre-professional training programs. Titles are proposed and directed by the Drama League FutureNow Directing Fellows, designed by Hangar Design Fellows, and cast with Hangar Lab Performance Fellows. 2022 Wedge productions will take place on the Hangar's Outdoor Tompkins Trust Company Stage.
Collaborators
Hangar Design Fellows work closely with Drama League FutureNow Directing Fellows to conceive and create KIDDSTUFF and Wedge show design elements.
As an assistant on Hangar Mainstage shows, Design Fellows assist experienced professional designers.
Throughout the summer, Fellows work closely with various department heads and the production manager as they create designs.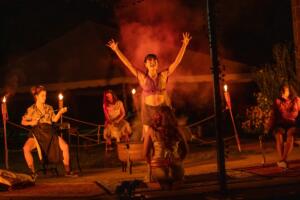 The Bacchae 2.1, 2021; photo by Rachel Philipson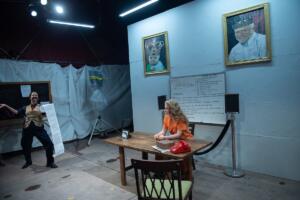 The Police, 2021; photo by Rachel Philipson
Learning Objectives
The greatest value of the Hangar Design Fellow program has always been the opportunity to learn by doing. As a 2018 participant observed, "To me the Hangar Design Fellowship was exciting and interesting because I could gain assistant experience with a number of designers, meet a whole host of people, be a part of a new theatre community, and design full productions…Over the course of the summer I gained so much confidence asking for the things I needed and learning how to communicate things in a way that would lead to work getting done well. I can't express enough how valuable that has been in my career."
With that in mind, a Hangar Design Fellow can expect to: 
Enhance their understanding of organizational design and production parameters; working with a director and other designers to conceive of and execute a design idea; process the information discussed and discovered in design and production meetings in a useful and productive way.
Improve practices for communicating artistic ideas and concepts with a team of theatre collaborators through graphic skills, language, and research.
Develop tools to help prioritize work and understand how a production fits into a repertory season.
Start the networking and collaboration process with other designers, directors, and technicians with whom they will continue to create theatre throughout their careers.
The Ithaca Area
Sitting on the southern tip of Cayuga Lake in the Finger Lakes Region of central New York, Ithaca is home to over 100 waterfalls within 10 miles of downtown, more restaurants per capita than New York City, two major universities, and a thriving arts scene, of which the Hangar is proud to be a part of. Company members who opt for housing will be housed in fully furnished rooms on a college campus in Tompkins County. Work-related transportation and regular trips to malls and grocery stores are provided, but Fellows that are able to bring their own cars are encouraged to do so.
Compensation
Fellowship compensation includes a weekly stipend of $400 and housing (if needed) for the duration of the residency.
Dates
2022 Program Dates: May 29, 2022-August 13, 2022
COVID-19 Considerations
All Hangar summer company members will be required to be fully vaccinated and boostered.  Please continue to check in at our website for updates.
Is this program for you? Are you ready and willing to make the commitment?
Read testimonials from past fellows here.
Any questions about the program can be directed to Adam Zonder, Production Manager, adam@hangartheatre.org