Xanadu
August 16 to September 1, 2018
Don't miss the Hangar's last Mainstage show of the season, our Ancient Greek Roller-Skating Musical!
The Muses of Ancient Greek Mythology, task themselves to inspire the greatest Venetian artist of all time.  But instead of Venice, Italy, they find themselves in 1980s Venice Beach, California. Undeterred, Clio chooses Sonny, a sidewalk chalk muralist and roller-skater extraordinaire, as the perfect candidate. Together they embark on a great artistic journey to restore the mythical roller-skating rink Xanadu.
PRESS RELEASE:
The Hangar Theatre Company Presents Xanadu!
ITHACA, NY- The Hangar Theatre Company completes their 44th Mainstage Summer Season with the campy fun-filled disco-infused Xanadu, directed and choreographed by Devanand Janki. The book was written by Douglas Carter Beane, with Music and Lyrics by Jeff Lynne & John Farrar. Performances will run from August 16 to September 1 with matinee and evening performances.
The musical is based off the 1980 film with the same name. Although the film starring Olivia Newton John was considered a flop at the time, the soundtrack was a hit and it became a beloved cult classic. Douglas Carter Beane wrote the book for the stage musical adaptation of Xanadu, and added new plot twists and humor parodying the film. According to Beane, he was influenced not only by the film, but also by the 1981 fantasy film Clash of the Titans, prompting him to focus more on the Greek mythology plotlines.
The score retains the hits from the film and also includes new arrangements by Eric Stern, and two classic Electric Light Orchestra songs, "Strange Magic" and "Evil Woman". The musical stage version was a huge success, and Beane was even nominated for the Tony Award for Best Book of a Musical after its Broadway run in 2007.
In this musical comedy adaptation, the Muses of Ancient Greek Mythology seek the greatest artist of all time. Intending to travel to Venice, Italy, they find themselves in 1980s Venice Beach, California instead…hilarity, romance, roller-skating and rock/disco music ensue. "Expect to be moved… even though it's a bit of a campy take on the cult film, it's a very moving story," Janki says. "The professional cast are extraordinary in terms of their ability: we're asking them to roller skate and sing and play a million roles while twirling ribbons. They are all triple threats."
The Hangar Theatre Company is proud to close their season with this glamorous, wacky, and magical show that will reach an audience of all ages. The Hangar thanks premiere sponsor of Xanadu, Communique, Mainstage Summer series Partners in Flight CFCU Community Credit Union and Cayuga Radio Group and Partner in the Arts, Ithaca College.
Remaining Performance Dates:
Free prologue discussions are offered 45 minutes before each and every performance. This show runs about 90 minutes with no intermission.
Tuesday, August 28 at 7:30 p.m. (Tuesday Talk Balk)
Wednesday Matinee, August 29 at 2 p.m. (PAY-WHAT-YOU-WILL)*NEW*
Wednesday Evening, August 29 at 7:30 p.m.
Thursday- August 30 at 7:30 p.m. (Drag Night with House of Merlot)
hangartheatre.org/event/merlot
Friday, August  31 at 8 p.m.
Saturday Matinee, September 1 at 3 p.m. (PAY-WHAT-YOU-WILL)*NEW*
Saturday Evening, September 1 at 8 p.m. (Closing Night 9/1 at 8 p.m.)
*Special Event Performances
Drag Night With The House of Merlot: hangartheatre.org/event/merlot
(Pay) What You Will: Come early to the 3 p.m. performance on 8/18 and name your own ticket price
Tuesday Talkbalks: Members of the creative team share information about the performance after the show
About the Hangar Theatre
Now in its 44th season, the Hangar produces quality theatrical and education programs for Ithaca, Tompkins County and the Finger Lakes region. The Hangar Theatre Company produces shows throughout the summer, one holiday winter production, and a variety of innovative theatre-based offerings throughout the year as well as a renowned education program.
Xanadu runs from August 16 to September 1 at the Hangar Theatre. For tickets or more information about the Hangar, please visit the Hangar Theatre box office, call 607.273.2787 or visit hangartheatre.org
Photo Credit: rachel philipson photography.
Show Sponsors: Communiqué Design & Marketing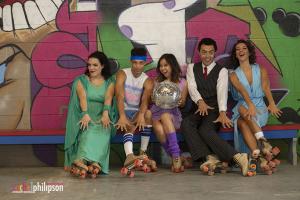 Left to Right:
Melpomeme/Andrews Sister/Hermes/Hera ……………..DESIREE RODRIGUEZ
Sonny/Thetis …………………………………………………………………ADANTE CARTER
Clio/Kira/Kitty ……………………………………………………………………. DIANA HUEY
Danny/Zeus ………………………………………………………………..GRAHAM STEVENS
Caliope//Andrews Sister/Aphrodite ………………..LEA SEVOLA
Musical Director………………..…………………………………………ZEEK SMITH
Keyboard 2/Bass/Polyhymnia/Centaur…………..EMANI BARBER
Percussion/Urania………………………………………CHELSEA CATALONE
Keyboard 1/Euterpe/Medusa……………………..ZEEK SMITH
Guitar/Erato/Cyclops………………………………..SUE TERWILLIGER