Seasonal Story Jam & Hootenanny
December Family Event:
Seasonal Story Jam & Hootenanny
Now Through Sunday, Dec. 27!
Featuring the Burns Sisters
Premier Sponsor: Tompkins Trust Company
This family-friendly virtual experience features holiday music from The Burns Sisters streamed from the Hangar Theatre, and Hangar artists performing a variety of both classic and contemporary short stories and poems by writers from Ithaca and beyond, that celebrate the wide range of cultures, traditions, experiences, and beliefs observed during the holiday season.
Actors will bring these and more short stories and poems to life through lightly staged readings streamed from the Hangar Theatre. Cast members include a mix of Hangar favorites and Ithaca community members: Marissa Accordino, Najva Akbari, Adara Alston, Susannah Berryman, K. Foula Dimopoulos, Robert Denzel Edwards, Christian Henry, Jennifer Herzog, Erin Lockett, Kayla M. Lyon, Craig MacDonald, Katharyn Howd Machan, Gregg Miller, Jahmar Ortiz, Sally Ramírez, Colin Smith, and Sylvie Yntema.
Watch anytime, again and again until the end of day Sunday, 12/27 (11:59 PM EST).
Scroll down to see our featured authors.
TICKETS: Your entire household can enjoy this event for only $25! Use your viewing link to start, stop, or re-watch as often as you'd like through 12/27.
PURCHASE LINK IS CLOSED. Your viewing link will be e-mailed to you from boxoffice@hangartheatre.org after purchasing. If you don't receive it, check spam or promotions.
Questions from 12/24-12/27, or can't find your link? E-mail info@hangartheatre.org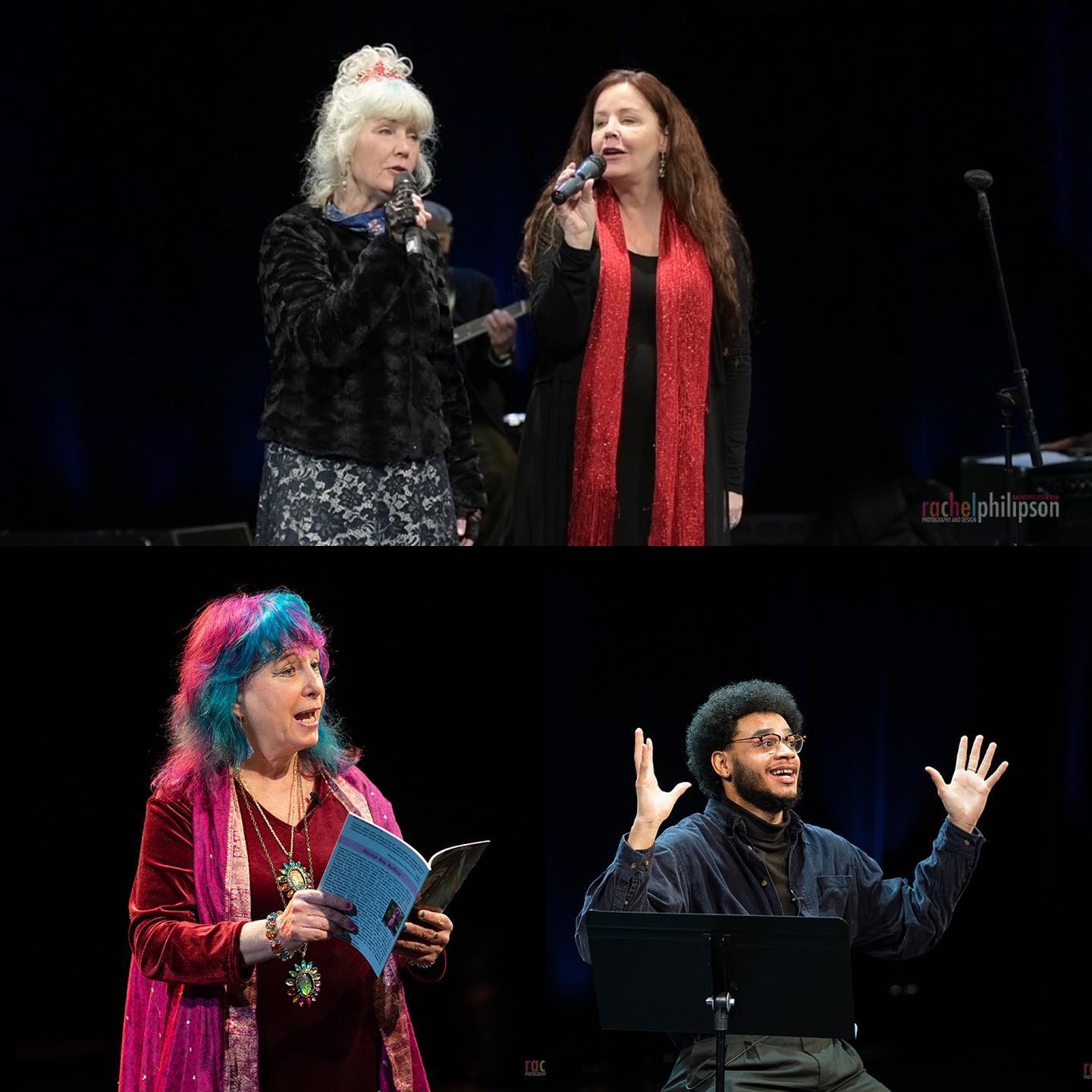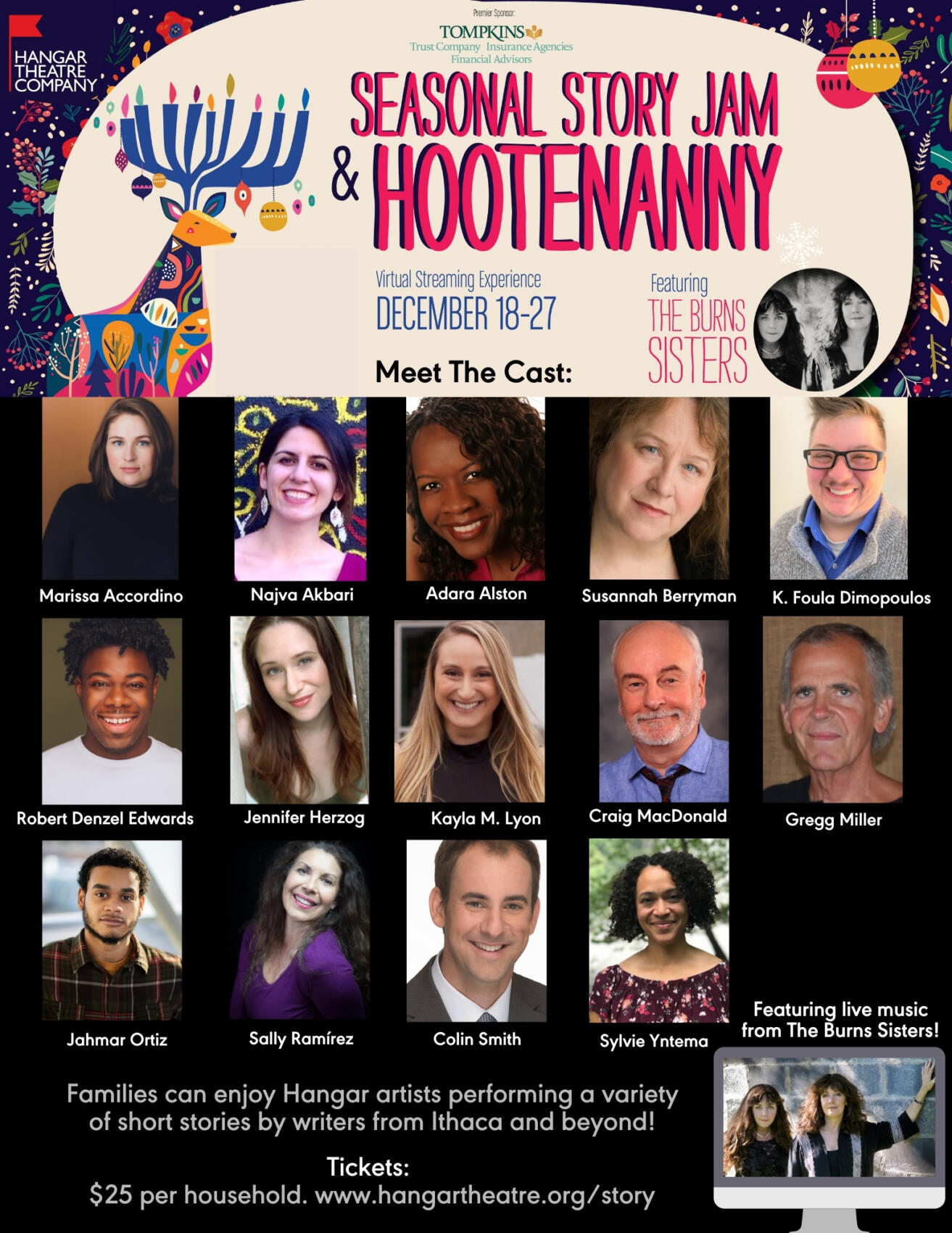 Frequently Asked Questions:
What exactly is a Hootenanny?
A gathering at which singers entertain, often with the audience joining in. Woody Guthrie and Pete Seeger popularized the term in the 1940s.
Can I watch my favorite story (or song) a second time?
You sure can! You can pause, rewind, skip ahead, go away and come back, as many times as you want to during the date range you choose to stream the show.
What kind of singing will be at this Hootenanny?
The show features completely original performances from Ithaca-favorites The Burns Sisters, Sally Ramirez and Doug Robinson, and many other area musical collaborators, streamed from the Hangar Theatre. The music celebrates the holiday season with both classic and new songs.
What about a Story Jam, what's that?
We present it as an eclectic array of stories and storytellers, featuring both local and nationally known writers, and performed by your favorite Ithaca-area performers. Think of it as a holiday smorgasbord, with many dishes – some bite-sized, and others a full meal.
What are the stories about?
They all celebrate the wide range of cultures, traditions, experiences, and beliefs observed during the holiday season.
So if I'm an audience member, do I get to join in?
Yes! We hope you'll sing-a-long to the classics you know and love.
Will anyone hear me?
Just the people (and/or animals) in your household.
How was it filmed?
Actors, musicians, and performers recorded separately at the theatre. For pieces with multiple artists (pictured) they all stood at least 6 feet apart at all times to maintain social distancing. The lobby had a sanitization and temperature check station by the front door, and was thoroughly cleaned between guests.
Can I buy this for a family as a gift?
Yes! Just call us at 607.273.ARTS or purchase using their email address.
How do I buy tickets?
Choose your viewing dates on the right to purchase!
Or call or leave a message at 607.273.ARTS (M-F 9-5).