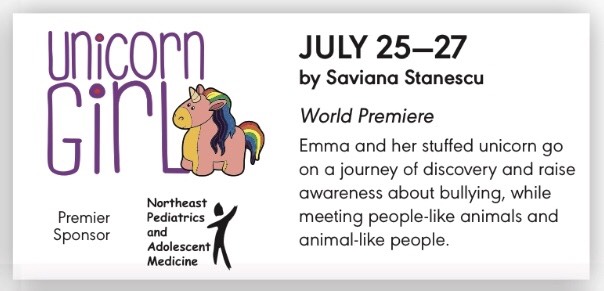 Unicorn Girl
World Premiere by Saviana Stanescu
July 25-27 @ 10 a.m. & 12 p.m.
When 8-year-old Emma gets bullied at school for being raised by a gay couple, she sets on a fantastical journey to raise awareness. Emma's stuffed unicorn joins her on this journey of discovery, during which she meets people-like animals, animal-like people, and the President of the United States!  World premiere. Themes: Advocacy, Bullying, Self-Expression
TICKETS: Click Buy Tickets, or call (607) 273-ARTS(2787).  Spring hours: Monday-F 9 a.m.-5 p.m.
GROUPS: Discounted rates are available for groups of 10+. For group pricing information, click here. 
SUBSCRIPTIONS: For the best seats, prices, and flexibility, purchase a KIDDSTUFF subscription! Subscribers will see 5 shows for just $39 total. To learn more, call (607) 273-ARTS(2787) or click here. 
(PAY) WHAT YOU WILL PERFORMANCES: On the noon Saturday matinee of KIDDSTUFF productions, patrons may pay whatever they wish! These tickets are available on a first come, first serve basis starting one hour before curtain.
2019 KIDDSTUFF (Pay) What You Will Sponsors: Ithaca Bakery