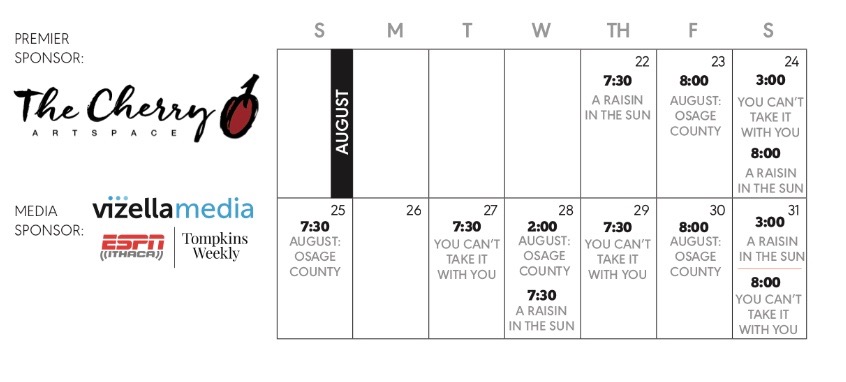 What is the Big Play Festival!?
We are concluding our summer season with something new! The Big Play Festival! is a new style of summer production this season. It will feature lightly staged readings of three BIG plays, all exploring the American Family. One BPF! ticket gets you in to all 3 plays.
MORE INFORMATION ABOUT BPF!:
What is a lightly staged reading?
A lightly staged reading is a form of theatre without sets or full costumes. The emphasis is on the text, acting, and imagination of the audience.
What is the schedule of the festival?
The 3 plays alternate during our regular performance times. With a Festival Ticket purchase or your subscription, you may see as many performances as you would like, at no additional cost! See the full schedule above. For subscribers, you are automatically placed in the play that corresponds to your subscription, but you can exchange or add any performance between 8/22 and 8/31!
How do I attend?
Simply purchase a ticket to one of the performances, (or buy a subscription). You can then reserve your complimentary seats to additional performances by calling 607.273.ARTS, or by filling out this form.
I purchased a ticket for one show (or am a subscriber). How do I reserve seats for additional performances?
You can reserve seats to additional performances by calling 607.273.ARTS, or by filling out this form.
If you have any additional questions, please call (607)273-ARTS or e-mail info@hangartheatre.org
TICKETS: Buy a festival pass for $40 and see all 3! Click Buy Tickets, or call (607) 273-ARTS(2787).  Spring hours: Monday-F 9 a.m.-5 p.m.
SUBSCRIPTIONS: For the best seats, prices, and flexibility, purchase a Hangar subscription! With the addition of our 2019 Big Play Festival! subscribers will see 7 shows and save 30% off individual ticket prices. To learn more, call (607) 273-ARTS(2787) or click here. 
OPENING NIGHT WITH RECEPTION: Friday, August 23
(PAY) WHAT YOU WILL PERFORMANCES: On the first Saturday matinee of Mainstage productions, patrons may pay whatever they wish! These tickets are available on a first come, first serve basis starting one hour before curtain.
2019 (Pay) What You Will Sponsors: Schlather, Stumbar, Parks & Salk, LLP
PROLOGUES: Join us in the lobby 45 minutes before each Mainstage
production for a pre-show discussion led by an artist!
TUESDAY TALK-BACKS: Every Tuesday, stay after the show to hear the cast and
creative team share insights and answer questions.
GROUPS: Save on groups of 10+! To learn more, click here.  
What are the plays in the 2019 BPF!?
BPF! August: Osage County
By Tracy Letts
Directed by Beth F. Milles
A dysfunctional family reunites at their family home in Oklahoma after the patriarch, an alcoholic once-famous poet, disappears.  As they confront each other with their grudges and memories, a dark past unfolds in this telling comedy-drama that won the 2008 Pulitzer for Best Drama.
Friday, 8/23 at 8 p.m., Sunday, 8/25 at 7:30 p.m., Wednesday, 8/28 at 2:00 p.m., & Friday, 8/30 at 8 p.m.
With Talkbalk 8/28 at 2 p.m.
BPF! A Raisin in The Sun
By Lorraine Hansberry
Directed by Godfrey Simmons, Jr.
When a family living on Chicago's south side receives a $10,000 insurance check after their father dies, each family member has a different dream about how it might lead to a better life.  A Raisin in the Sun was the first play by a black woman playwright to be produced on Broadway, and the first with a black director. The NY Drama Critics' Circle named Hansberry's landmark work "best play of the year" when in debuted in 1959.
Thursday, 8/22 at 7:30 p.m., Saturday, 8/24 at 8 p.m., Wednesday, 8/28, at 7:30 p.m. & Saturday, 8/31 at 3:00 p.m.
With Talkbalk 8/31 at 3 p.m.
BPF! You Can't Take It with You (chosen by 2019 Subscribers)
By George S. Kaufman and Moss hart
Directed by Bob Moss
Banker's son Tony Kirby and his fiancé Alice Sycamore come from decidedly different families.  When the snobby Kirbys come to dine with Alice's peculiar extended kin–a collection of batty but good-hearted souls—lifestyles and values collide, resulting in mayhem and comedy.  The play won the 1937 Pulitzer Prize for Drama, and the screen adaptation directed by Frank Capra won the Academy Award in 1938.
Saturday, 8/24 at 3 p.m., Tuesday, 8/27 at 7:30 p.m., Thursday, 8/29 at 7:30 p.m., & Saturday, 8/31 at 8:00 p.m.