Hangar Theatre virtual Annual Meeting
Monday, March 15, 2021
7 PM EDTAll are welcome to attend our virtual Annual Meeting! Join us to reflect on our challenges and successes of 2020 and enjoy special performances, interviews, and awards. Meet incoming board members and join our Q&A with our new leaders R.J. Lavine (Managing Director) and Shirley Serotsky (Artistic Director).
For a day-of reminder with link, register
HERE 
Or, join us on 3/15 at 7 PM(and subscribe to) our
YouTube page
.
Pictured:
On September 1, 2020, Hangar's participated in the #RedAlertRESTART campaign and lit the exterior of the theatre in red in solidarity with thousands of other live events venues across the nation to raise public and media awareness in support of the live events sector, which has been largely impacted by the effects of COVID-19.
Photo Credit: Rachel Philipson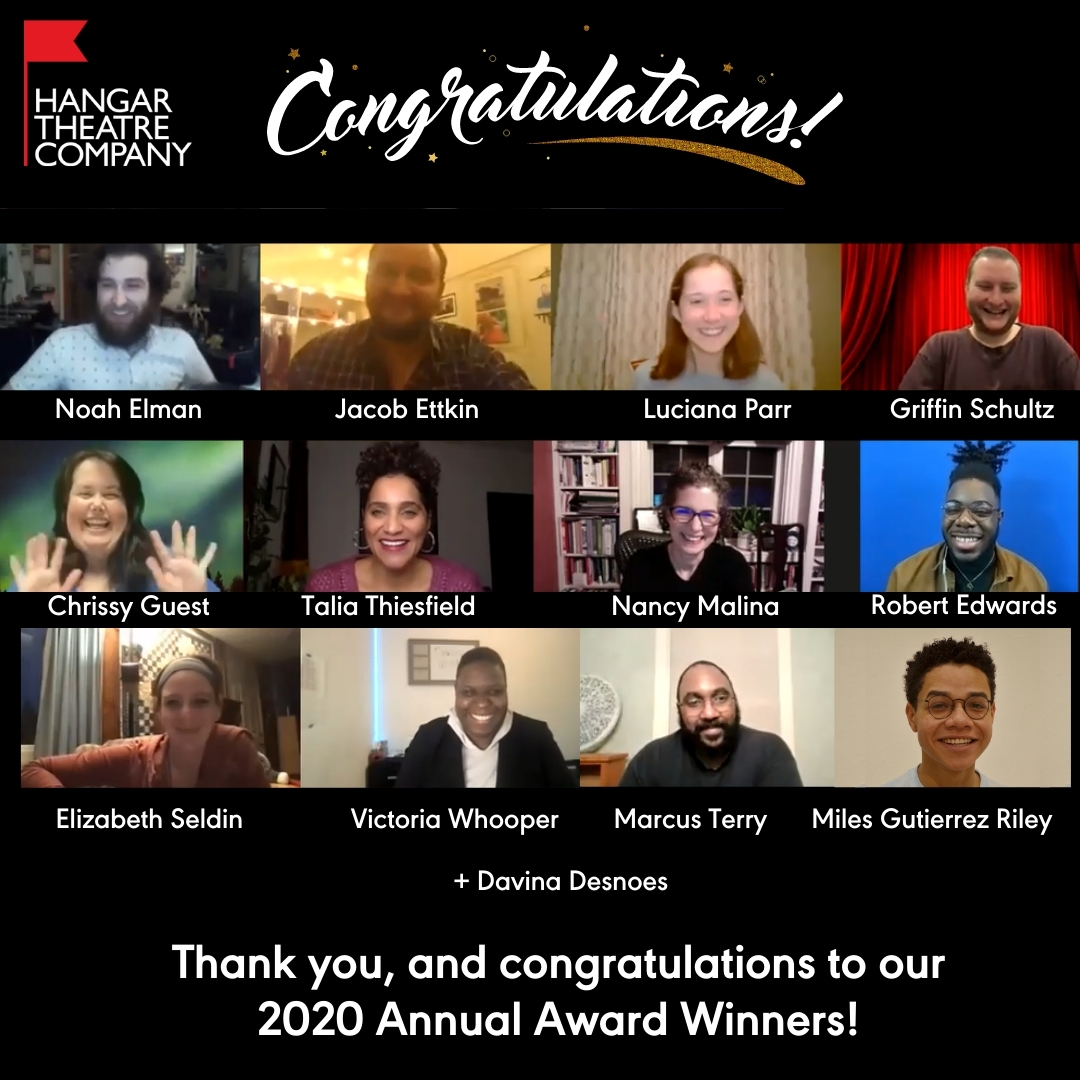 Congratulations to our 2020 Annual Award Winners!
AGDA OSBORN AWARD for exemplary service and commitment to the Hangar Theatre characteristic of Mrs. Osborn:
Presented to Equity, Diversity, Inclusion, and Accessibility
Committee members: Davina Desnoes, Robert Edwards, Jacob Ettkin, Nancy Malina, Miles Gutierrez Riley, Marcus Terry, Talia Thiesfield, and Victoria Whooper for sharing their time, knowledge, and guidance in the process of moving the Hangar towards an artistic landscape with greater representation and equity, in all respects.
TOM NIEDERKORN AWARD for extraordinary contributions to artistic and educational programming at the Hangar Theatre.
Presented to Chrissy Guest and Griffin Schultz for providing support and expertise towards creating visually engaging on-screen experiences for the Hangar's first-ever virtual season of online presentations.
ERIN ALJOE SCHLATHER INSPIRATION AWARD for a young person who has made a remarkable contribution to the life of the Hangar Theatre and has sparked the contributions of others.
Presented to Luciana Parr for her wonderful energy, creativity, and grace in the Hangar's Next Generation School of Theatre classes, both in person and virtual.
CAMILLA SCHADE TEACHING ARTIST AWARD for a Hangar Theatre educator who has demonstrated a positive impact on the lives of students and who embodies the highest standards of the profession, in memory of gifted actor, director, teacher, and playwright Camilla Schade.
Presented to Noah Elman and Elizabeth Seldin, who dove into the world of virtual theatre classes just two weeks into the pandemic, and then continued to lead a variety of classes throughout the year with consistent quality and enthusiasm.